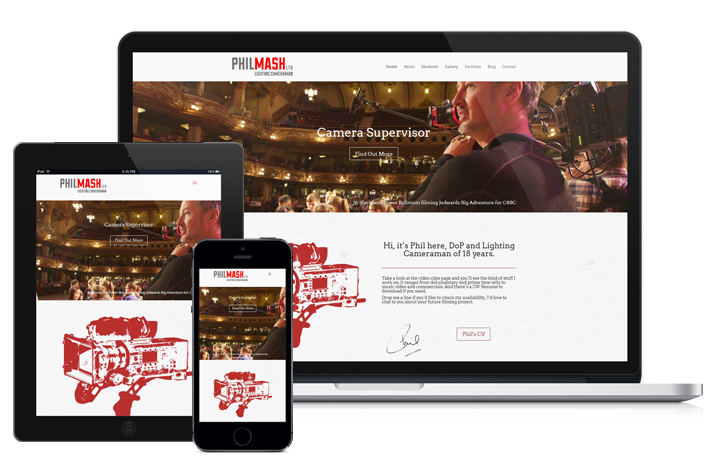 Phil Mash Ltd – Lighting Cameraman
The Client
Phil Mash is an independent lighting and camera man, who delivers his professional services to a range of media projects including documentaries, prime time television programmes, music video and commercials.
In the media industry, image is everything. So Phil required a new website that would showcase the very best of his work in a user-friendly way, with a retro but modern visual style.
How we delivered
Phil had a range of tightly defined requirements that we worked to understand and implement, including the following:
a gallery and showreel for each project featured on the website
an intuitive content management system so he could update the gallery and projects himself
integration with a third-party video streaming service, for which we chose vimeo as a professional and clean player
a separate mobile version of the website, for which we set up a sub-domain with intelligent responsiveness to ensure users were automatically directed to the correct site.
As a creative professional, it was also extremely important to Phil that the visual style of the website gave exactly the right balance of fun, professionalism and individuality, to ensure that his work and CV were presented in the best light. He also wanted to maximise the opportunity to showcase some of the stunning locations where he has worked around the world.
In keeping with our approach to most project, we ensured that the site was kept as simple as possible, including an intuitive and clean navigation to help users find what they're looking for quickly and easily.
The New Website
The result of our work was an attractive and user-friendly, feature-rich website that provides a superb showcase for the best of Phil's work. The features include the following:
a separate mobile website, using a sub-domain
third-party video integration
sliders
mobile-responsive
a user-friendly content management system that doesn't require technical skills to use
accordians
a blog.